Hotel Al Mare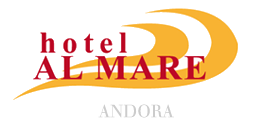 The Hotel Al Mare enjoys a truly privileged position, which makes it unique in its kind in the area: It is located on the sea promenade (pedestrians only) on the coast to the west of Andora. Guests simply have to cross the promenade to reach the beach, less than 15 meters from the sea.
All rooms have sea views, and almost all of them have a balcony or terrace. Each room has a number of facilities: safe, TV, air conditioning, hair dryer.
After spending the night lulled by the sound of the waves, our guests awake to a rich buffet breakfast, in a dining room with direct access to the small garden.
After enjoying a quiet breakfast, in a family atmosphere, ideal for slow awakenings that we so look forward to when on holiday, guests can walk the few metres that separate the Hotel from the Bagni Galleano, to enjoy the fine sand, the clean sea water and all the services that the Beach Management provides to our guests (access is free for full board or half board guests).
Allow yourself to wallow in the blue of the water and the energising force of the sun in Summer.
Allow yourself to be caressed by the breathtaking colours of the sun rising over the sea, in Autumn.
Watch the mingle of a thousand colours of windsurfs, kitesurfs and sail boats, in Spring.
You can observe all of this whilst sitting comfortably on the terrace of your room at the Hotel Al Mare.